---
RECOMMENDATION LETTER FOR "Beautiful City, Lovely People Exhibition 2006" THE CITY OF NAGASAKI
---
Samuel Sachs II
Director Emeritus, The Frick Collection
President, The Pollock-Krasner Foundation

Dear Citizens of Nagasaki,

Paper, a medium favored by artists since its invention in China in the 3rd century BC, is versatile, elegant and endlessly
expressive. It found its way to Japan in the 4th century AD and has been at the core of culture there ever since. Washi, the
handmade version, is central to many long traditions not the least of which is Origami.
The art of cutting paper, however, has found special expression and one has only to look at such diverse cultural examples as
Indonesian Shadow Puppets, Ashkenazi Mizrahs, Swiss Jean Hubers Silhouette Portraiture or Pennsylvanian 18th century
Valentine cards to experience some of the immense range. There is a Jizhow bowl from the Southern Song Dynasty (1200-1279)
which marries stoneware and cut-paper designs

Nagasaki native Hiro Takeshita is now having his first one-man exhibition in his home city after 30 years. He has created a
handsome body of cut paper work and drawn inspiration from many artists to create his own, unique blend of a keen Japanese
sensibility with a visual acuity drawn from a life in the West. His artists eye sees an ever-hopeful view of a color-filled world
where line and space create a multi-dimensional reality.

Working tirelessly and imaginatively with scissors and razor he makes precision drawings as no pen could, often creating a
level of detail which delights the viewer at the same time as causing awareness of the sheer effort of creation. His humor is
never far off and a sense of delight is central to Takeshita's oeuvre. Unlike many other artists he seems equally at home with
day and night. The tenderness which pervades much of his work makes it most appropriate for children as well.

In 2001, he made a wonderful and touching Christmas card showing the building of The Frick Collection, New York and its
Christmas decorations using his traditional papercut work style. The message read, Peace on Earth. This message is very
important for him. The Christmas card was enjoyed by many people. I hope people of Nagasaki enjoy his artwork, too.
---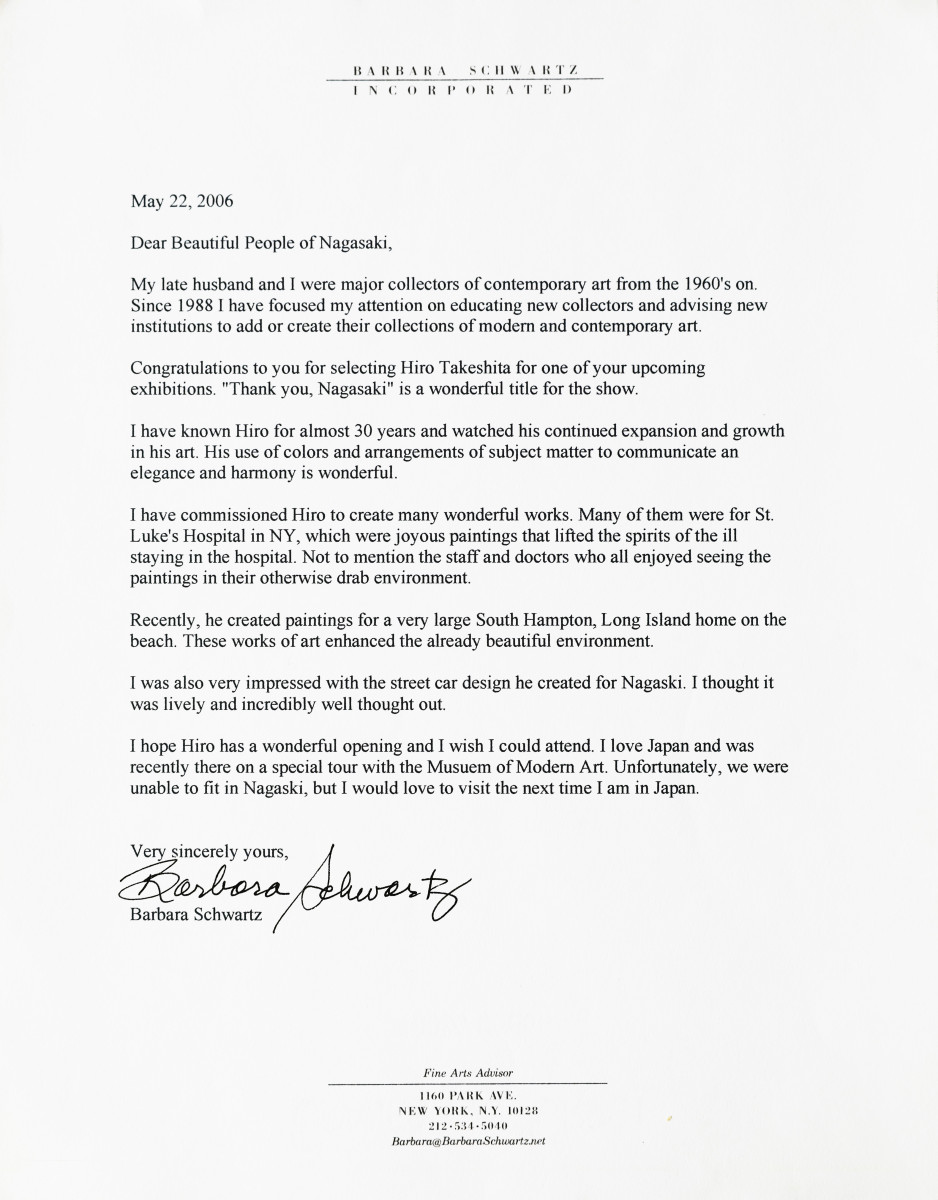 --